The Academy of General Dentistry and the American Academy of Pediatric Dentistry Collaborate on a Special Pediatric Oral Health Issue of General Dentistry
Seven articles from pediatric dentistry researchers seek to expand knowledge and understanding of current treatments and techniques.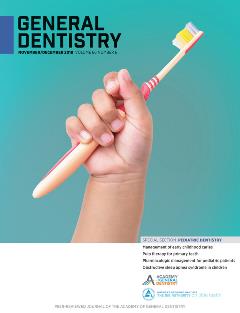 Chicago, IL (November 5, 2018)—A good oral health routine for children is the best defense against a range of maladies, as detailed by pediatric dentistry researchers whose work is featured in the November/December issue of General Dentistry, the peer-reviewed journal of the Academy of General Dentistry (AGD). The AGD and the American Academy of Pediatric Dentistry (AAPD) collaborated on this special issue to bring greater attention to new research on oral disease prevention and to highlight the improved understanding of social and developmental factors that influence the oral health of children. These advances in knowledge are changing the way oral care is delivered to young people.
The AGD and AAPD are both advocates for establishing good oral health habits at an early age, and general dentists play a key role in delivery of care throughout a patient's life. According to the National Center of Health Statistics, although the prevalence of tooth decay has decreased, nearly one in five children under the age of five has experienced dental caries. In addition, nearly half of the children ages 6-11 in the U.S. population are affected by tooth decay, along with more than half of those ages 12-19. The seven articles in this special issue of General Dentistry support research showing that children who see a dentist as they begin the teething stages and continue with regular visits are likely to experience fewer cavities, also known as dental caries and tooth decay.
In his guest editorial, AAPD's Chief Policy Officer, Paul Casamassimo, D.D.S., M.S., shares, "The general dentist community remains the heavy lifter in the oral care of children and will likely remain so for years to come." Casamassimo continues, "What we wanted to describe in this special issue are scientific and strategic changes in how we approach care for children."
The articles highlight various approaches that general dentists should consider when treating children and young people. This collection of articles was authored by AAPD members from universities across the country. They include:
Evidence-Based Care Pathways for Management of Early Childhood Caries: Early childhood caries is the presence of dental caries in children younger than six years. The authors of this article examine treatment pathways beyond the traditional restorative methods used in the past. The goals of these pathways, which include fluoride varnish, silver diamine fluoride, interim therapeutic restorations, and sealants, are to treat the disease process and reduce caries progression, with the aim of preventing new disease. Supplementary strategies include active surveillance, counseling, recalls, and deferring treatment. In defining pathways to care, this article emphasizes the involvement of both parent and oral health provider in both the consultation and care processes.
Caries Risk Assessment: This article focuses on the ways general dentists can use an established, methodical approach to determine a patient's risk for developing caries. This nimble process allows continuous recording of the individual's changing caries risk over time. With this knowledge, practitioners can integrate effective, minimally invasive preventive strategies to address both the causes and consequences of dental caries in their patients.
Pulp Therapy for Primary and Immature Permanent Teeth: An Overview: A toothache is usually the sign that the pulp area is infected and decay is forming. In this article, the authors explain how and why the best treatment choice for infection or decay in a primary, or "baby," tooth may not be the same as for an adult, permanent tooth. This article is a great guide for a dental team because it highlights step-by-step procedures for pulp therapy in both primary and immature permanent teeth.
Pharmacologic Management for Pediatric Dental Patients in the 21st Century: This article examines the use of sedation or general anesthesia drugs by oral healthcare providers to foster cooperation for rehabilitative dental treatment in pediatric patients who lack psychological or emotional maturity or have a mental, physical or medical disability. The discussion emphasizes best practices, case selection, and, most importantly, patient safety.
Temporomandibular Disorders in Children and Adolescents: This article addresses the diagnosis and management of temporomandibular disorders (TMDs), which are conditions that affect the temporomandibular joints, jaw muscles and associated tissues. Studies have reported a growing number of cases of TMD among children and adolescents. TMDs have no known single cause; rather, a combination of contributing factors, including trauma, occlusion, systemic and genetic factors, and psychological factors, is usually to blame. A complete history and a thorough examination, along with an understanding of best practices for pediatric patients, are needed to successfully diagnose and treat this condition.
Obstructive Sleep Apnea Syndrome in Children: A large number of children suffer from obstructive sleep apnea syndrome (OSAS), characterized by disruption of breathing during sleeping. These interruptions, which result from prolonged partial or intermittent complete upper airway obstruction, disturb normal sleeping patterns. OSAS can affect a child's quality of life, with consequences such as an inability to concentrate in school, poor academic performance, behavioral problems, cardiovascular issues, and poor growth and development. Dental practitioners can play a crucial role in the identification, treatment, and management of OSAS in children.
Behavior Guidance: That Was Then But This Is Now: A pediatric patient's ability to cooperate during a visit influences what treatments are delivered and the timeline for dental care. The authors examine how dentists can use modern principles of behavior guidance to facilitate delivery of oral health care to young patients. By building trust with patients and developing behavior guidance skills, dentists can help turn child patients into fearless adult patients with excellent oral health. This article reviews basic behavior guidance techniques and offers practical examples of implementing them in daily practice.
About AGD
The Academy of General Dentistry is a professional association of more than 40,000 general dentists dedicated to providing quality dental care and oral health education to the public. Founded in 1952, AGD is the largest association for general dentists in the world and serves the needs and represents the interests of general dentists. For more information about AGD, visit, www.agd.org.
About AAPD
The American Academy of Pediatric Dentistry is the recognized authority on children's oral health. As advocates for children's oral health, the AAPD promotes evidence-based policies and clinical recommendations; educates and informs policymakers, parents and guardians, and other health care professionals; fosters research; and provides continuing professional education for pediatric dentists and general dentists who treat children. Founded in 1947, the AAPD is a not-for-profit professional membership association representing the specialty of pediatric dentistry. Its 10,800 members provide primary care and comprehensive dental specialty treatments for infants, children, adolescents and individuals with special health care needs. For further information, visit the AAPD website at www.aapd.org or the AAPD's consumer website at www.mychildrensteeth.org.