AGD is excited to introduce George Schmidt, DMD, FAGD, as our new AGD Podcast Series Host. Dr. Schmidt is a New Jersey dentist and chair of the AGD Scientific Meetings Council.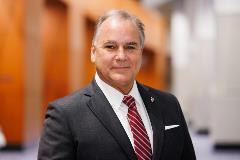 Dr. Schmidt is passionate about dental education and is active with AGD. He has served on the Dental Education Council and also lectures nationally on dental implants, restorative dentistry and practice management. He also is an adjunct clinical assistant professor in the CDE Implant Department at the New York University College of Dentistry and in the Department of Diagnostic Sciences at the Rutgers School of Dental Medicine.

Dr. Schmidt received his dental degree from the University of Medicine and Dentistry of New Jersey. He is a fellow of the International Congress of Oral Implantologists and the American Dental Implant Association.
Send podcast feedback to News@agd.org
Featured Podcast: Robotic Dental Implant Surgery
Michael Calderon, DDS, the founder of the Calderon Institute, joins Dr. Schmidt to discuss the progression and precision of robotic dental implant surgery. After completing a two-year dental residency at New York University (NYU), he established his private practice in Islip, New York. He has performed more than ten thousand dental implants. His passion for dental implants began in 1999, recognizing that there was an advantage for general dentists to conduct implant procedures in their practice.
Dr. Calderon is one of the few dentists in his area performing robotic implant surgery. He can attest to its precision over "brain guided" surgery. According to Dr. Calderon, robotic technology eliminates uncomfortable hand and body positioning for both the dentists and patients. Because of its ability to read and gauge oral cavity measurements from CT scans, robotic technology provides prompts that will minimize the degree of any substantial error.
Listen now and learn more about how robotic technology is improving dental implant surgery.
Practice Management Tips with Howard Farran, DDS, MBA
Howard Farran, DDS, MBA, the founder and owner of Dentaltown.com and Dentaltown magazine, joins Dr. Schmidt to discuss practice management and offer some insights for success. He has practiced dentistry at Today's Dental in the Phoenix metro area for more than 30 years. In 2017, Incisal Edge magazine ranked him among the 32 most influential people in dentistry. Don't miss his tips or this lively discussion.

Dr. Farran has lectured internationally on the business of dentistry since 1990, captivating audiences with his blunt, humorous and practical insights into the industry's most controversial subjects. His genuine passion for helping dentists provide faster, easier, higher-quality and lower-cost dentistry to their patients is what drives him to this day.
Transitioning to Fee For Services Through Exceptional Service with Gary Takacs
Dr. Schmidt talks with Gary Takacs on strategies that assist in the transformation from high-volume/low fee insurance dependency to a fee for service model. During this discussion, he shares lessons from cost accounting to communications that shows consumers what they have to gain from a patient-centric practice.

Takacs is a well-known presence in dental practice consulting. He is co-host of the Thriving Dentist Show Podcast, founder of the Thriving Practice Academy and co-owner of LifeSmiles Dental Care. He brings deep knowledge of the individual elements of business success together with genuine compassion for the dilemma of the dentist in today's insurance-driven culture. As the host of a couple of podcast series, Gary guides dental professionals to a healthier practice style that lets them deliver hallmark-level quality of care.
Fred Joyal on Opportunities to Speak Up and Take Action
Joyal, the CEO of TruBlu Social Smiles, a video testimonial software platform, career also includes works as the co-founder of Futuredontics, the parent company of 1-800-DENTIST. His latest book, Superbold: From Under-Confident to Charismatic in 90 Days, is an Amazon and Wall Street Journal bestseller. He is also the author of two books for the dental industry, Everything is Marketing: The Ultimate Strategy for Dental Practice Growth, and Becoming Remarkable: How to Create a Dental Practice Everyone Talks About. He offers advice to podcast listeners on how to be bold, build a successful career, and harness experience to radically increase success and fulfillment in life.
AGD2023: Dr. Schmidt attended AGD2023, July 19-22 and talks with guests and organizers about the benefits of AGD's scientific session. Take a listen to these brief interviews:
Dental Practice Models for Growth and Balance
AGD Podcast host Dr. George Schmidt talks with Dr. Brady Frank about opportunities for the dentists while working with dental service organizations and the business of dentistry. They discuss opportunities for general dentists to build the type of practice they want and find balance in their lives. Dr. Frank, a third-generation dentist, advocates for dentists to learn about the autonomous dental service organization and how to use this practice model in their career planning. He is passionate about teaching others the hard-won lessons he has learned about creating and selling a business. He is the cofounder of Freedom Dental Partners.
Utilizing Data to Improve Practice Management with Michael Abernathy, DDS
Don't miss the interview with Michael Abernathy, DDS, who talks about the importance of data and benchmarks to ensure practices are running smoothly. He emphasizes the importance of measurements to ensure general dentists set realistic goals and keep their focus on achieving them.
Taking Dentistry to the Next Level with Tarun "T-Bone" Agarwal, DDS
AGD Podcast Series speaks to Tarun Agarwal, DDS, about how to maximize your dental practice and career to make the most of it. Dr. Agarwal understand the challenges solo practices face based on dental insurance fees, competition for large dental groups, and internal struggles. But, he still believe that dentistry is the best profession in the world, with more opportunity than ever. He uses a commonsense approach to sustainable practice growth. He focuses on clinical excellence, patient-centric business management, and a dental team empowered to embrace an ownership mentality. He wants to help dentists work smarter, not harder. He is the Founder/CEO of Raleigh Dental Arts as well as 3D Dentists, the education platform that has trained over 10,000 dentists. You may contact Dr. Agarwal at dra@raleighdentalarts.com.
AGD Foundation Takes Bold Moves to Fight Oral Cancer
AGD Foundation President Mark Malterud, DDS, MAGD, provides important updates on the AGD Foundation and its mission to fight oral cancer. He talks about its new website, toolkit and grants program. Don't miss this informative conversation with AGD Podcast Series host George Schmidt and Dr. Malterud as they talk about their passion projects.
Dr. Malterud is a general dentist from St. Paul, Minnesota.
Connecting the Dental Community with Stop the Bleed
Featuring Eric Wong, DDS, MAGD

May is Stop The Bleed awareness month, and an opportunity for general dentists to learn more about this important initiative. Stop the Bleed is a national awareness campaign that trains the public to help in a bleeding emergency before professional help arrives. In this podcast episode, Dr. Schmidt talks with Dr. Eric Wong, who has been instrumental in bringing this training to general dentists to help save lives. Learn more about this program and get involved.

Dr. Wong is a general dentist from California and a training for the Stop the Bleed program.

Learn more at www.stopthebleed.org/
Dermal Fillers and Dentistry
with Gigi Meinecke, DMD, FAGD
Are you interested in learning more about the therapeutic uses for facial neuromodulators along with injection techniques? Take a listen to this month's featured podcast with Gigi Meinecke, DMD, FAGD, and find out about differentiating toxins — dosage strength, review of reconstitution, review of complications and management of patient expectations.
Gigi Meinecke, DMD, FAGD, has been active in the field of facial injectables since 2004. In 2013, she established "FACES" — Facial Anatomy for Comprehensive Esthetic Seminars, which provides cosmetic and therapeutic injectable training to medical and dental professionals with a core focus on comprehensive facial anatomy. Meinecke is past president of the Maryland AGD and currently serves on the Maryland State Dental Association's Legislative and Government Affairs Council. Nationally, she is a spokesperson for AGD and serves as vice chair of the American Dental Association Council on Communications. She is a fellow of the International College of Dentists and the American College of Dentists. She serves on the Boston University Henry M. Goldman School of Dental Medicine's alumni board.
AGD's Commitment to the Profession
featuring AGD President Hans P. Guter, DDS, FAGD

AGD is more than just great continuing education. It is a dynamic organization focusing on supporting general dentists and the profession through education, advocacy and networks that help our members personally and professionally. Don't miss the latest AGD Podcast featuring AGD President Hans Guter, DDS, FAGD, talking about the range of initiatives AGD is focusing on.
AGD President Has P. Guter, DDS, FAGD has been active in organized dentistry since he opened his practice. He graduated from The Ohio State University College of Dentistry in 1989. He received his BS in microbiology from Ohio State and, after dental school, completed his advanced education in general dentistry residency at The Ohio State University Wexner Medical Center. He has maintained a private practice in Circleville, Ohio, since 1990. He has fellowships from the AGD, Pierre Fauchard Academy, the American College of Dentistry, the Academy of Dentistry International and the International College of Dentistry.
Full Arch Restoration
with Frank Lamar, DDS
Are you curious about full-arch dental implant solutions? If you are tired or zirconia and looking for a better way, listen to the AGD Podcast Series today. Our host George Schmidt, DMD, FAGD, talks with Frank Lamar, DDS, who shares how you can complete these cases in just four to five hours.
Dr. LaMar specializes in prosthodontics and dental restoration. He trained in prosthetic dentistry at the Eastman Dental Center at the University of Rochester Medical Center.
As a Prosthodontist, Dr. LaMar limits his practice to the replacement of missing teeth, and the restoration of severely compromised teeth. He has developed the Hybridge Implant Protocols, which have significantly reduced the time and expense of dental implant treatment.

He is an Assistant Professor at the Eastman Dental Center's Department of Prosthodontics and a member of the American College of Prosthodontists, the American Academy of Implant Dentistry (AAID). He lectures nationally on the topics of Implant Dentistry and Prosthodontics. Dr. LaMar is the prosthodontic education director of the LaMar Training Center and the Rochester Dental Implant Network.
Understanding Dental Lasers
with Bruce L. Cassis, DDS, MAGD

The next podcast features a deep look at dental lasers. AGD Past President and Associate Editor Bruce Cassis, DDS, MAGD, describes options for adopting laser technology and how it will help to improve patient outcomes and de-stress your workday. Laser technology will enable you to provide dentistry with better clinical results, more comfort and faster recovery.
Bruce Cassis, DDS, MAGD, is a graduate of West Virginia University School of Dentistry. In addition to his private practice, Cassis has lectured extensively on the development and clinical applications for laser dentistry both internationally and at nationally recognized dental conferences. Cassis has a passion for education and for supporting general dentists. He has served AGD at the state and national levels, most recently as chair of the Membership Committee. He previously served on the PACE and Communications councils. Cassis has received the AGD Lifelong Learning and Service Recognition.
Legislative and Practice Management Leadership
Joseph A. Battaglia, DMD, MS, FAGD
Dr. Schmidt talks with Joseph A. Battaglia, DMD, MS, FAGD, on AGD's legislative and practice management priorities and some of the challenges general dentists will face in the coming years. They highlight AGD's accomplishments in recent years in protecting dental practices by addressing regulatory changes and working with governmental agencies and allied dental groups. They also address some of the changes affecting general dentistry and share the tools and resources that AGD members have available to become effective advocates for the AGD at the federal level and the state level.

Listen now.

Joseph A. Battaglia, DMD, MS, FAGD, is in private practice in Wayne, New Jersey, and an associate clinical professor in the department of restorative dentistry at the Rutgers University School of Dental Medicine, where he has maintained an advancing faculty appointment for over 30 years. He is currently responsible for the clinical and preclinical instruction of sophomore, junior and senior dental students. In addition to his faculty appointment, he previously held an administrative position in the department of continuing education at the New Jersey Dental School — the predecessor of Rutgers School of Dental Medicine — at the University of Medicine and Dentistry of New Jersey (UMDNJ).
Dr. Battaglia currently serves on the AGD Board and he was previously chair of the AGD Dental Practice Council and the American Association of Dental Boards (AADB) East Caucus; vice-chair of the AADB Nominating Committee; commissioner of the American Dental Association (ADA) National Commission on Recognition of Dental Specialties and Certifying Boards; member of the ADA workgroup on elder care; representative delegate to the Commission on Dental Competency Assessments (CDCA) House of Delegates of the New Jersey State Board of Dentistry; and member of the CDCA Endodontic Subcommittee. He is past chair of the AGD Legislative & Governmental Affairs Council and past president of the New Jersey AGD (2002–2003). He holds an MS in biochemistry from Fairleigh Dickinson University School of Dental Medicine and a DMD from UMDNJ. He completed a general practice residency at Hackensack University Medical Center and has earned fellowships from AGD, the Academy of Dentistry International, the American College of Dentists and the International College of Dentists. Prior to entering dentistry, Battaglia worked as a research biologist at Merck.
Preview Podcasts:
Explore the Latest in Oral Pathology
Check out the latest podcast with Wes Blakeslee, DMD, FAGD, as he explores oral pathology with Ashley Clark, DDS. Dr. Clark discusses the importance of early diagnosis as well as leukoplakia and squamous cell carcinoma. Drs Blakeslee and Clark also discuss why the HPV vaccine is so important and why general dentists should discuss these important topics with their patients with a focus on oral cancer prevention.
Dr. Ashley Clark is a board-certified oral pathologist currently serving as the Vice President of CAMP Laboratory in Indianapolis, Indiana after a nearly decade-long career in academia. She is on the Professional Board for Oral Cancer Cause and Digital Dental Notes. Dr. Clark has won several teaching awards, has provided over 100 continuing education courses, and has authored more than 40 publications and book chapters. For a free biopsy kit, please email her at ashleyclarkdds@gmail.com.
Coding: Updates, Information and Important Considerations
AGD Podcast Series Host Wes Blakeslee, DMD, FAGD, talks with dental coding expert Greg Grobmyer, DDS, discuss coding strategies, updates for 2022 and 2022, documentation practices, and opportunities for managing insufficient documentation. Dr. Grobmyer is currently the Chief Editor of Dr. Charles Blair's Dental Coding with Confidence book and Practice Booster's Insurance Solutions Newsletter, a contributing editor to the Dental Administration with Confidence, Dental Technology with Confidence, and Dental Documentation with Confidence books, a course creator and lecturer for DentalZing.com, a Revenue Enhancement Program Specialist, and host of The Dental Code Advisor Podcast.
Color Selection Perspectives for Increased Productivity
This month, Dr. Blakeslee talks with Robert Ingrassio, CDT, on the color selection process during prosthetic restoration. Most patients trust that their dentist is competent in the prosthetic restoration of their teeth, but also believe they have less concern relating to the final color match. Understanding the various aspects often overlooked in the process of color selection, is a critical factor for case acceptance. Beyond the fundamental photographic and color-shade selection skills needed, color-selectors need to be well trained in identifying bias, body language and how the words they use and hear may be perceived. Equally important is the ability to listen and communicate effectively, to establish a realistic expectation or outcome.
Robert Ingrassio, CDT, founder of Design for Perfection, a collaboration in dental artistry, provides an overview of his philosophy within the color selection arena, acquired over decades of hands-on experience with color and the selection process.

Robert spends most of his time training and coaching new dental professionals in technical procedures, not often taught in dental schools.
Color Selection Perspectives for Increased Productivity
Online Marketing That Moves the Needle
AGD Podcast Series host Wes Blakeslee, DMD, FAGD, talks with dental marketing expert Scott Spencer ways to move the needle with online marketing effort. He describes specific opportunities to boost your online presence and be more responsive to current and potential patients.
Spencer is a website marketing expert. In 2015, he established his own boutique dental marketing agency called Dental Growth Solutions. With more than a decade of experience in the dental industry and an abundance of knowledge regarding online marketing resources for dentists, Spencer has assisted all types of dental professionals with growing their dental practices using customized marketing strategies. Scott looks forward to continuing to work with dental consultants and dental practices around the country in a consultative manner to ensure they have all the tools necessary to increase their customer base.
An Oral Cancer Journey: Patient Perspective
The April podcast features oral cancer survivor Gloria Cancellieri, a patient of AGD Podcast Series host Dr. Wes Blakeslee. In 2020, Cancellieri was diagnosed with oral cancer during a regular screening in Dr. Blakeslee's office. She describes the benefits of working closely with her dental care team to ensure her cancer was treated quickly. As a result of early diagnosis, her cancer has been successfully treated. A former janitorial services company owner and nurse, she is now retired.

Listen to the full episode.
The Benefits of Stem Cell in Dentistry
AGD Podcast host Wes Blakeslee, DMD, FAGD, talks with Stephanie Tilley, DMD, about the opportunities available through stem cells to improve a patient's overall oral health. During the podcast, she explains the process she uses in her clinic. Tilley is a general dentist in Pensacola, Florida.
Dumb Things That Smart Dentists Do
AGD Podcast host Wes Blakeslee, DMD, FAGD, talks with Richard Madow, DDS, this month about important considerations for moving your practice forward. Madow outlines smart steps members should take to improve the experience for current patients and help recruit new patients. Madow is the co-founder of The Madow Center for Dental Practice Success, and has been helping dentists and team members for over thirty years. As a well-known key opinion leader in dentistry, he's been named a "Leader in Dental Education" by Dentistry Today journal for over ten years running.
The Rise of Sleep Disorders and Breathing and the Dentist's Role
The October podcast features Ben Miraglia, DDS. He and AGD Podcast series host Wes Blakeslee, DDS, discuss sleep disorders and breathing and how general dentist ca n address these issues. In the podcast they discuss why so many children present with malocclusion and adults suffering from sleep apnea. Miraglia provides tips to help general dentists support their patients with these issues.