NOTIFICATION

The Self-Instruction program is now available on the AGD new learning platform within the Online Learning Center! Instructions and Frequently Asked Questions for using the new learning platform are posted in to the right in the More Information box.
Please note:
For all users who still have existing credit from previously purchased bundles through Gauge – a notification will be sent to you via email soon on how to access your existing credit in the new platform.
Earn Valuable CE on Your Own
Self-Instruction allows you to earn valuable CE credit in the office, at home or on the go. Exercises are developed based on the content of AGD's award-winning publications, ensuring that you're getting CE that will benefit you, your patients and your practice.

As of December 2019, the Self-Instruction program has been broadened to include AGD Impact articles. AGD Impact Self-Instruction exercises will provide education on subjects rarely offered in the past. Because AGD Impact aims to keep readers up to date on the latest developments in the world of dentistry, exercises will cover topics from practice management to substance abuse. It's the perfect complement to General Dentistry — after learning about the latest research, select exercises on today's hottest topics. These exercises are designed to easily fit into your busy learning schedule.

Each issue of General Dentistry, AGD's peer-reviewed clinical journal, features three articles with corresponding Self-Instruction exercises. Each issue of AGD Impact, AGD's newsmagazine, features two articles with corresponding Self-Instruction exercises. While each General Dentistry exercise contains 15 questions and is worth 2 CE credits, each AGD Impact exercise contains 10 questions and is worth 1 CE credit. Choose a learning experience that works best for you. With 42 new exercises available each year, the Self-Instruction program is a great way to earn valuable CE credit and tailor your learning experience to fit your unique needs.

You can pay online, test online and receive your CE verification through our online Self-Instruction program. Earning CE has never been easier.

Once you enroll, you can earn CE credit in three easy steps:

Read the articles.
Take the exercises.
Submit your answers.

Self-Instruction Enrollment Packages
General Dentistry
| | | |
| --- | --- | --- |
| Package | Members | Non-members |
| 1 exercise | $30 | $50 |
| 3 exercises | $70-Save $20 | $100-Save $50 |
| 6 exercises | $120-Save $60 | $170-Save $130 |
| 12 exercises | $180-Save $180 | $255-Save $345 |
AGD Impact
| | | |
| --- | --- | --- |
| Package | Members | Non-members |
| 1 exercise | $15 | $25 |
| 2 exercises | $25-Save $5 | $35-Save $15 |
| 4 exercises | $50-Save $10 | $70-Save $30 |
* Not an AGD Member? Create a profile and select an enrollment package.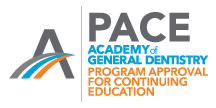 Approved PACE Program Provider
FAGD/MAGD Credit
Approval does not imply acceptance by a state or
Provincial board of dentistry or AGD Endorsement
6/1/2018 to 5/31/2024
Provider ID: 216217