The AGD office will be closed from Dec. 26, 2021, thru Dec. 30, 2022, in observance of the holiday season. The office will reopen on Monday, January 2, 2023.

Applications for the 2023 AGD Fellowship Award, Mastership Award and Lifelong Learning & Service Recognition must be post-marked, emailed or faxed by Dec. 31, 2022, to be considered for participation in the 2023 Convocation ceremony.

If you need to contact the AGD because you have questions about applying for the FAGD, MAGD or LLSR, we will respond on January 2nd. If your questions are received on or before the December 31, 2022, deadline and you have met all other requirements, your application WILL be accepted for consideration for the 2023. Convocation Ceremony. All questions should be emailed to Education@agd.org.

In order to allow time for processing, Fellowship Exam applications should be submitted no later than December 16, 2022, to better ensure that members can make testing appointments at SMT/Prometric testing centers before December 31, 2022. Please be aware that SMT/Prometric is independent of the AGD and may have limited testing hours during the holiday season.

If you need to contact the AGD to report that your appointment to take the Fellowship Exam at an SMT/Prometric Testing Center was canceled due to weather or an unannounced closure, please reschedule your exam with a representative of the testing company as soon as possible. Email documentation of your original appointment and the rescheduled appointment to Education@agd.org along with your 2023 Fellowship Award Application by December 31, 2022, to ensure that you can still be considered for the 2023 AGD Fellowship Award.

AGD Fellows commit to oral care that goes above and beyond.
Distinguish yourself professionally by pursuing the AGD Fellowship Award. Earning Fellowship through the attainment of quality continuing education (CE) culminates with receipt of your award at the AGD Convocation Ceremony held each year during AGD's Scientific Session.

Fellowship Requirements
To earn Fellowship, you must complete the following requirements:
Maintain current AGD membership for three continuous years by Dec. 31 of the year in which the application is received, to begin no earlier than the month of dental school graduation
Have a dental license that has not been suspended or revoked within the past five years and is not currently under probation, suspension or revocation
Pass the AGD Fellowship Exam
Complete 500 hours of approved CE
Attend the AGD Convocation Ceremony, held during the AGD Scientific Session, where you will receive the award; successful candidates are allowed three years following approval to complete this requirement
For more information, download the AGD FAGD Guidelines.
Apply for Fellowship

To receive your AGD Fellowship Award, you must submit an application and the required fee to AGD by Dec. 31 (to be considered for the class immediately following the application deadline). Download the Fellowship Award Application, or request the application via email at awardapp@agd.org. Then, apply!
Any active general dentist or associate member who joined AGD after February 2010 will be subject to a 7-day waiting period prior to applying for or sitting for the AGD Fellowship Exam, in order to verify his or her membership status. AGD student members are not eligible to take the exam until they have attained their dental license and have transitioned from student to active AGD member. Active members are not required to complete their 500-hour CE requirement before applying for or sitting for the Fellowship Exam.
Effective April 1, 2022, the Fellowship Award Application fee will be increased to $780
---
Applications must be postmarked no later than Dec. 31 to be considered for the class immediately following the application deadline. AGD's Council on Dental Education will review your application by the end of March. You can expect to receive notification of the council's decision by mail by mid-April.
---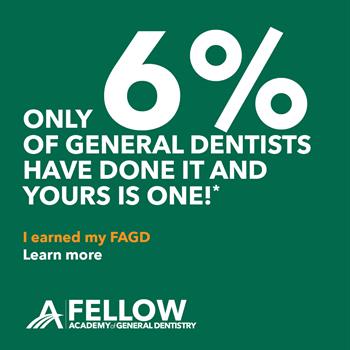 *Includes the United States and Canada. Sourced from Statista and United States Bureau of Labor Statistics.