Dental Office Training
All-Star Dental Academy

866.280.1343

All-Star Dental Academy offers the dental industry's most comprehensive online customer-service-based training program. It provides dentists with a simple, step-by-step customer-service process. Its 24/7 online training platform empowers dentists and teams to train when they want to, and their courses are delivered in bite-sized installments for effective learning, consistency and maximum retention. All-Star Dental Academy is an AGD PACE-approved provider.


Featured AGD Podcast
Positioning Your Practice for Excellence
Dr. Wes Blakeslee interviews Alex Nottingham, CEO and founder of AGD Exclusive Benefits provider All-Star Dental Academy. Nottingham, who gained expertise in the industry by helping grow his father's dental practice, discusses the importance of the dentist positioning themselves as a strong leader to secure practice excellence. Additionally, Nottingham touches on how to create a great patient experience at every touchpoint. Listen today!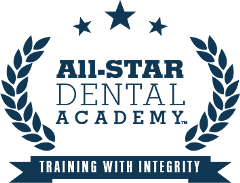 Offer Information
As an AGD member, you will receive a
$400 discount
on the first year of the program. Learn more about what All-Star Dental Academy has to offer by downloading a
free training book
.
Access the Exclusive Benefits passcodes page for your direct link to savings.