April's Podcast Covers Oral Cancer from the Patient's Perspective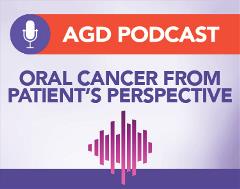 This month, AGD Podcaster Wes Blakeslee, DMD, FAGD, talks with one of his patients, Tom Zarra, an oral cancer patient. They discuss how a lesion identified during a routine dental appointment was later confirmed to be oral cancer as well as other details about the diagnosis and treatment. Zarra talks about what keeps him going through challenging medical treatments as well as the importance of his family and faith through the journey. This story highlights the importance of the interactions between dentists and their patients during oral cancer treatment.
Listen to this powerful interview now
.