Your trusted source for dental health information from the Academy of General Dentistry

Leaders Among the Dental Community

Currently with 40,000 members, the Academy of General Dentistry has been a leading organization of general dentists for more than 65 years. For patients, that's good news!
The AGD Difference — It's in the Name
Have you ever noticed the letters after your dentist's name? Most of the time you'll only see DDS or DMD. Those distinguish them as either a Doctor of Dental Surgery or Doctor of Medicine in Dentistry. However, there are two other important titles you should look for when selecting a dentist — FAGD and MAGD.
Learn more about the requirements.
A Mark of Excellence — FAGD and MAGD
FAGD and MAGD stand for Fellow of the Academy of General Dentistry and Master of the Academy of General Dentistry, respectively, and each distinction has a specific set of requirements dentists must meet to achieve them.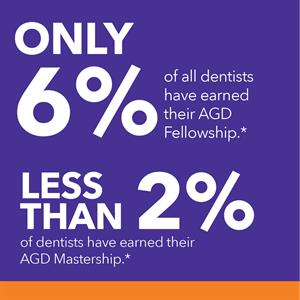 Find out if your dentist is a member of AGD or has received their FAGD or MAGD.
*Includes United States and Canada. Sourced from Statista and United States Bureau of Labor Statistics.