Student Loan Refinancing

(833) 277-7634
Partner@sofi.com
For many in the dental community, student debt is a reality that many people have to face. SoFi evaluates borrowers holistically to offer low rates that ultimately can save borrowers thousands.

SoFi at Work is running a $50K Healthcare Heroes Sweepstakes where you could win $5,000* toward your student loans.

How to enter within minutes:
Log in to AGD's Exclusive Benefits passcodes page and click on the Student Loan Refinancing link
Select the Sweeps tile
Create an account or log in to an existing SoFi account
Get pre-qualified to check your rate
You're automatically entered!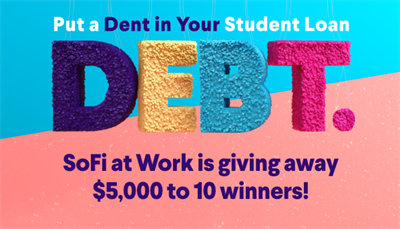 Offer Information

With SoFi you can refinance your federal student loans, lock in a lower rate and keep your federal CARES Act benefits until they expire—including 0% interest until 12/20/21 and no payments until February 2022.
Discount: AGD members, friends and family receive a 0.25% rate discount upon refinancing
Savings: SoFi borrowers can save thousands when they refinance to a lower rate or shorter repayment term
Great Rates: Low fixed and variable rates available
Simplicity: SoFi can refinance both federal and/or private student loans with an easy online application that can be completed quickly
No Fees: No application fees, no origination fees and no prepayment penalties
Perks: SoFi offers career counseling, unemployment protection and member events
There's no obligation/impact on your credit score to check your rates in 2 minutes.
Access the Exclusive Benefits passcodes page for your direct link to savings.