John Olsen, AGD Vice President, Updated Message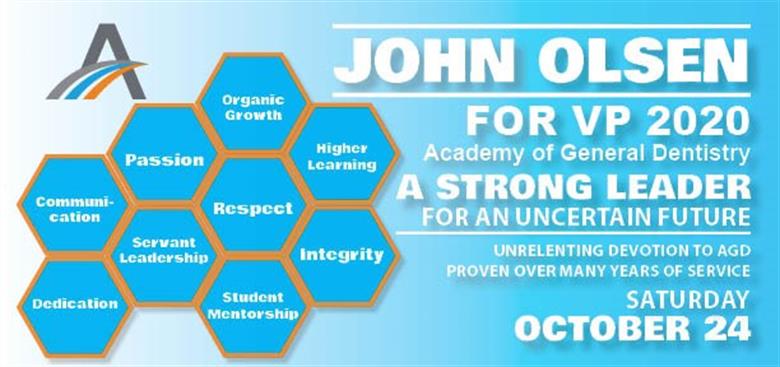 Dear Friends and Colleagues,
As we near this year's AGD Vice Presidential election, I wanted to take a moment and thank you for coming on this journey with me, wherever it may lead us. Thank you for all of your professional support over the years - I would not be where I am today without your kind words, unique insights, and an ever-steady belief in my ability to lead our organization.
The time for you to cast your votes is nearly here, and – for the last time – I'd like to humbly ask for your vote on October 24th, 2020.
I promise to continue hearing your needs and wants, to lead the AGD without influence from external interests, and to make every decision with our current and future members in mind. This is our organization and, as a leader, I will be here to serve you. We must stand together to make the AGD a stronger, more united voice in the dental community. Together, we can improve our standards of membership, advocacy, and education. I have deep faith in the next generation of dentists and their ability to bring fresh, new ideas to the AGD, and in turn, we in the AGD can offer them lifelong benefits as they advance through their careers.
You've already heard my goals and plans for the AGD. You've seen my professional track record. Many of you have witnessed my leadership experience first-hand. My fellow AGD members, esteemed Delegates, all I can ask of you now is to cast your vote on October 24th, 2020, and vote for an AGD future we can all be proud of.
Should you have any questions or concerns, please do not hesitate to call me at (414) 425-7050 or email me at
drolsenja@gmail.com
.
As always, thank you for all your support, camaraderie, and consideration.
Sincerely,
Dr. John A. Olsen
DDS, MAGD, DICOI
Region #9 Trustee