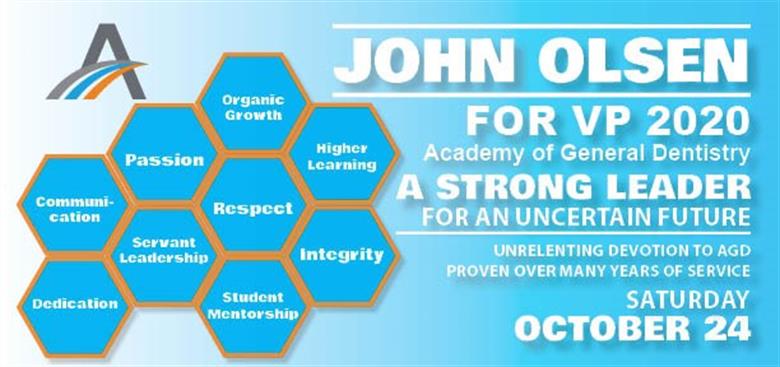 Dear Friends and Colleagues,
By now you are likely aware of my desire to become your next AGD Vice President and I can only hope you have recognized my accomplishments as qualifications and proof that I will make a great leader. However, a leader is nothing without a plan, so I'd like to take a few minutes of your time to share my goals for the AGD, our organization's future, and my Presidency.
Selfless Leadership
I have poured my heart and soul into the AGD, as a Trustee, Regional Director, and on numerous boards and councils. I vow to continue serving our organization selflessly, with no outside interests influencing my decision-making process – my decisions will be made with only your best interests in mind. After all, our organization would be nothing without its members, and AGD leadership must strive to serve, not exploit, those members. I am here for you – to hear your concerns, answer your questions, and bring positive, tangible change to the general dental practice community.
Transparent Communication
As a long-time lecturer, educator, and mentor, I have polished my communication skills, placing great value on transparency and clarity. As your servant-leader, I will mediate disputes and seek to unite, not divide, our organization. I will not make empty promises about unattainable membership goals; instead, I will work to keep you happy and entice new members through positive word of mouth, by increasing member benefits, and adding value to membership in the AGD. My years as an academic teacher have given me particular insight into the minds of new dentists, dental students, and the dental school faculty – all of whom we need to get behind our organization now, more than ever. I am uniquely positioned to harness the potential of these untapped groups, and am confident that AGD membership can grow organically and sustainably.
Looking into the Future
I strongly believe that education should be a foundational pillar of our organization. I will continue to encourage the need for General Dentists to pursue higher learning by reaching for the Fellowship, Mastership, and Lifelong Learning Service Achievements. I will advocate for General Dentists to be able to perform all disciplines of dentistry, making sure the AGD-trained dentist is empowered to do all these services. Finally, I would be remiss not to mention the pandemic we are in the midst of, which has affected every single member of the AGD. I believe that dentists are valuable healthcare providers and should be considered essential healthcare workers. As such, we should be given the capacity and resources to test for infectious diseases like COVID-19, while continuing to serve our local communities.
Friends, Colleagues – your support in this position would mean the world to me, and a chance to implement my ideas and proposals to improve the AGD would be the crowning honor of my career. Please take some time out of your day on Saturday, October 24th, 2020 to vote for an AGD future we can all be proud of.
Should you have any questions or concerns, please do not hesitate to call me at 414.349.7244 or email me at drolsenja@gmail.com.
Thank you, once again, for all your support, camaraderie, and consideration.

Sincerely,
Dr. John A. Olsen
DDS, MAGD, DICOI
Region #9 Trustee