Hans Guter, DDS, FAGD
Candidate for AGD Vice President
Esteemed Delegates!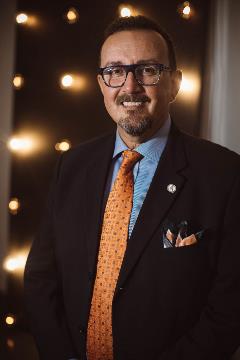 I am, Hans Guter DDS, FAGD, and I am honored and humbled to be seeking your vote for the office of Vice President of our Academy. This decision is one that I have been pondering over during my second term as a Trustee. During this time I have been asked by several current and past leaders of our Academy to seriously consider running for this office.

I have been actively involved in leadership roles within our organization since I became a member in 1991. I have served on a constituent, regional and national level for our Academy. As I conclude my second term as a Trustee, I feel I am extremely prepared and qualified to take on the responsibilities that come with the office of Vice President and ultimately as your President. Please feel free to take a look at my CV, to see the evolution of my leadership roles and experience.

This office obviously comes with the responsibility of oversight of all the workings of our organization and I pledge to you that I will do that with great passion and professionalism while at the same time maintaining an air of collaboration and mutual respect with our volunteer leaders and our staff. Having said this you all know that there are three areas that I feel are very important for our organization at this time: advocating for our member general dentist, growth in membership and stability of our staff.

Please feel free to reach out to me at docguter@yahoo.com or at (614)270-2073 with any questions or concerns. I am excited and ready to continue to serve you and our Academy. I humbly ask for your vote.

Hans Guter DDS, FAGD