General Dentistry is the award-winning, peer-reviewed journal of the Academy of General Dentistry. Published bimonthly, General Dentistry features clinical articles spanning the breadth of topics relevant to general dentists, including unique diagnostic case reports, novel solutions to common treatment dilemmas, evidence-based best practices, and the science to help you choose the best materials, technology and procedures for your patients and your practice.



Table of Contents
Special Section: A collaboration between General Dentistry and American Family Physician
Oral Medicine, Oral Diagnosis, Oral Pathology

Oral manifestations of systemic disease

Heidi L. Gaddey

Many systemic diseases can be identified based on changes within the oral cavity. This article reviews common oral cavity findings in adult and pediatric patients and the systemic diseases with which they may be associated.

2017 November/December; 65(6):23-29.

Full Article (PDF)

SELF-INSTRUCTION

Health and Nutrition

The effects of oral health on systemic health

Shawn F. Kane

Many diseases and medications impact the oral cavity, and pathologic conditions in the mouth can have a systemic impact. Although it is unclear whether there is true causality or just an association, the consequences of such chronic conditions are well understood, and dentists and physicians must increase their collaboration to maximize the benefit to patients.

2017 November/December; 65(6):30-34.

Full Article (PDF) Self-Instruction Exercise No. 411

SELF-INSTRUCTION

Multi-Disciplinary Topics

Nutrition for oral health and oral manifestations of poor nutrition and unhealthy habits

Matthew Pflipsen
Yevgeniy Zenchenko

A nutritionally deficient diet can cause or contribute to numerous pathoses of the oral cavity. Unhealthy habits can also damage the dentition. Knowledge of these relationships will enable the dentist to question patients about dietary habits and provide guidance to encourage a healthy lifestyle.

2017 November/December; 65(6):36-43.

Full Article (PDF) Self-Instruction Exercise No. 412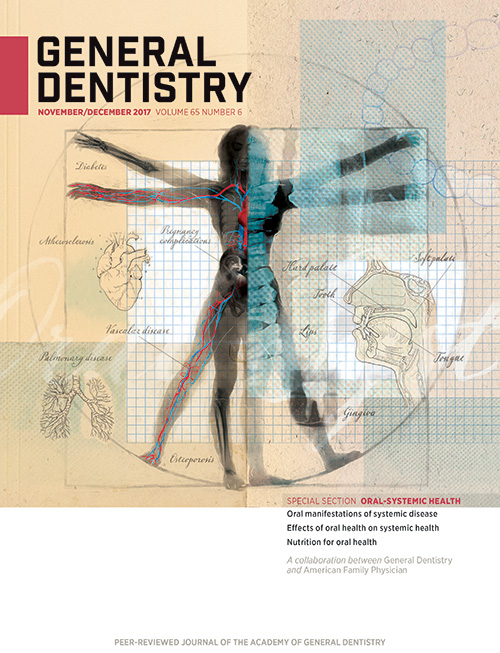 November/December 2017
Contact General Dentistry
Jun 1, 2017, 14:25 PM
Headline :
Contact General Dentistry
External Link :
Button Text :
Contact General Dentistry
Select a color for this callout :
Green Blue
Select a layout option :
Content Left Image Right
Do you have questions about submitting an article or comments about something you've read in General Dentistry? Contact us at generaldentistry@agd.org.
Related pages :